ADVANCED IMAGING WEBINARS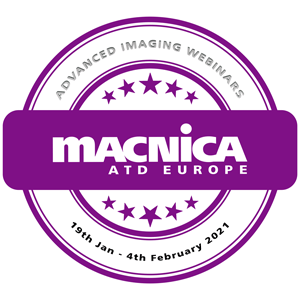 _

January 19th - February 4th 2021

_
_Tuesday, January 19th 2021 - 10:00 AM (CET)_
​
Advances in Scientific CMOS Image Sensors

This webinar starts by highlighting market trends for image sensors and discusses the evolution of the image sensor market in terms of volume; production and market segmentation. In a next step, technology trends for scientific image sensors are addressed and key differentiators as well as contradicting requirements discussed. Finally, the webinar focusses on the relevance of custom designed image sensors placing arguments such as differentiation of the product portfolio and performance without compromises.

Jeroen Hoet - Chief Business Development @ Caeleste
_Tuesday, January 26th 2021 - 10:00 AM (CET)_
​
Image Sensor World – Capturing Everything
​
Sony Semiconductor Solutions in this webinar gives an exclusive product and technology update on the latest Sony developments for the imaging sector. The first part highlights the latest Sony CMOS sensors for industrial uses including global shutter; rolling shutter and large format sensors of the Pregius and PregiusS lines with several new functions. Secondly, the Webinar introduces the new short wave infrared (SWIR) sensor line called SenSWIR. The third part of the technology update includes event-based vision sensors (EVS), their characteristics, target applications and use cases. Finally, Sony takes a look at their Time of Flight (ToF) sensor line-up with examples for industrial applications and potential other new markets for ToF sensor technology.
​
Muhammad Umar - Senior Software Engineer @ Sony
Masafumi Okano - Senior Camera Applications Engineer @ Sony
Takahiro Yamamoto - Senior Camera Application Engineer @ Sony
_Thursday, January 28th 2021 - 9:00 AM (CET)_
​
Macnica Machine Vision Camera IP Solution
Macnica as a distributor of cutting-edge semiconductors has developed a number of IP solutions targeting industrial machine vision applications. In this webinar Macnica introduces their IP support for the increasingly popular CMOS image sensor interface "SLVS-EC" where support for Intel and Xilinx devices is available and support for Microsemi PolarFire FPGA is scheduled in near future. Another IP solution will be presented for the high-speed camera interface "CoaXPress 2.0" which is also scheduled to receive Macnica IP support for the low power consumption FPGA from PolarFire. Further IP solutions are described for the hardware camera interfaces GigE Vision and USB3 Vision. In addition, Macnica introduces its GenICam Host Software Development Kit (SDK). Finally, the webinar presents the Macnica IP development kit named "EasyMVC" for easy evaluation and prototyping of machine vision cameras.
​
Tomokazu Kondo - Director of Imaging Solution Development
Advanced Technology @ Macnica
_Tuesday, February 2nd 2021 - 10:00 AM (CET)_
​
Pushing the Envelope of Image Sensing Applications
in Industrial, Medical and Consumer Markets
The market for CMOS image sensors is accelerating thanks to increased performance at more attractive cost levels. As an innovation powerhouse, ams is launching 7 new products across 3 families. With best in-class optical performance and power efficiency, these image sensor products are perfectly suited to drive high growth in medical, industrial and consumer
applications.
​
Dina Aguiar - Commercial Marketing Manager of the Business Line CIS @ ams
_Thursday, February 4th 2021 - 2:00 PM (CET)_
Variable Focus Lenses for Demanding Applications
Today we will be talking about Corning's unceasing commitment to supporting innovation. Specifically, we will be discussing the benefits of adopting liquid lens technology. Corning® Varioptic® Lenses are optical devices that adjust voltage to change the shape of a liquid interface commonly represented as an emulation of the human eye.
​
Glenn-Iv Plaine - Sales and Marketing Manager @ Corning Varioptic
Victor Marquis - Account manager @ Corning Varioptic
Xavier Berthelon - Field Application Engineer – Optics and Imaging @ Corning Varioptic
​